Doom Space Marines Force Structure

Knee-Deep in the Dead - Hangar - Nuclear Plant - Toxin Refinery - Command Control - Phobos Lab - Central Processing - Computer Station - Phobos Anomaly - Military Base - The Shores of Hell - Deimos Anomaly - Containment Area - Refinery - Deimos Lab - Command Center - Walls of the Damned - Spawning Vats - Tower of Babel - Fortress of Mystery - Inferno - Hell Keep - Slough of Despair - Pandemonium - House of Pain - Unholy Cathedral - Mt. Erebus - Limbo - Dis - Warrens - Thy Flesh Consumed - Hell Beneath - Perfect Hatred - Sever The Wicked - Unruly Evil - They Will Repent - Against Thee Wickedly - And Hell Followed - Unto The Cruel - Fear - Hell On Earth - Entryway - Underhalls - The Gantlet - The Focus - The Waste Tunnels - The Crusher - Dead Simple - Tricks and Traps - The Pit - Refueling Base - Circle of Death - The Factory - Downtown - The Inmost Dens - Industrial Zone - Suburbs - Tenements - The Courtyard - The Citadel - Gotcha ! - Nirvana - The Catacombs - Barrels o' Fun - The Chasm - Bloodfalls - The Abandoned Mines - Monster Condo - The Spirit World - The Living End - Icon of Sin - Wolfenstein - Grosse
Doom Space Marine Sarge
As Doom Space Marines won't intervene in large-scale operations, it is quite common to see them led into battle by what you would normally call "a simple sergeant" – save that DSM sergeant are anything but ordinary soldiers.
Qty
PP
Description
T
Mv
Df
Mn
CR
67
Doom Space Marine Sarge
C
9"
3k2
5k4
10"
Ballsy, Frenzied, Inspiring Example, Sharpshooter, Tough
WP
Description
R
AV
AE
AET
6
Über Combat Training
0"
2k1
-
-
47
Plasma Gun
24"
3k2
-
-
Piercing Attack
Doom Space Marines
The Doom Space Marine Corps has a long history of heroic feats and is one of the most regarded among Imperial regiments. There are only a few of them on Negromundheim and they are rightly considered as a last resort for extreme circumstances, for each of the Doom Space Marines is not only an elite, but a genuine hero capable, if needed, of fighting his way into hell.
Or beneath.
Qty
PP
Description
T
Mv
Df
Mn
CR
4-8
35
Doom Space Marine
T
9"
3k2
4k3
0"
Ballsy, Frenzied, Sharpshooter, Sole Survivor, Tough
Doom Space Marine Arsenal
WP
Description
R
AV
AE
AET
6
Über Combat Training
0"
2k1
-
-
22
Handgun
12"
3k2
-
-
Piercing Attack
25
Shotgun
12"
3k2
-
-
Highly Accurate
53
Chaingun
18"
3k2
3x
Bu
Highly Accurate
30
Assault Rifle
24"
3k2
-
-
Piercing Attack
47
Plasma Gun
24"
3k2
2x
Bu
Highly accurate
53
Missile Launcher (krak)
30"
5k4
-
-
Move or fire, Armor Piercing, Piercing Attack, Multiprofile
Missile Launcher (frag)
30"
3k2
2x
Ex
Move or fire, Highly Accurate
77
BFG 9000
36"
4k3
3x
Ex
Move or Fire, Piercing Attack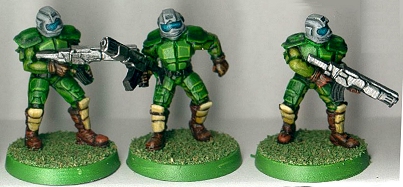 (Figures are Void syntha prosthene marines (now OOP?), with Denizen miniatures Federation helmets and various bits.)